Throwing a lavish banquet in a hotel in Singapore is a thing of the past and financially "unwoke" given that we are in a pandemic situation currently. From 4th August 2020 onwards, key life events are allowed to have a maximum of 50 people. In a wedding setting, the couple will be counted towards the headcount while the solemniser and wedding vendors will be excluded. As such, throwing a wedding banquet in a hotel ballroom will only incur hefty expenses (which will unlikely be covered by the 48 red packets, or less, received).
Update (23 September 2020): From 3rd October 2020 onwards, wedding receptions and solemnisation can have up to 100 unique attendees (inclusive of couple, exclusive of service providers). Guests of wedding receptions will be split into groups of no more than 50 pax, at two different time slots. On the other hand, guests for wedding solemisation can witness the event together, but in different zones (maximum 50 pax per zone).
An Alternative: Rented Wedding Venues
There are many other ways to hold a solemnisation or a wedding banquet, such as a rented space or a café. By using such spaces, the guests will get a unique experience while the couple can save on a substantial amount which can be used for their future child or next holiday.
An advantage of such wedding rental places is the low cost, from as low as $30 per hour. However, renting an affordable venue would likely mean that you will have to source for your own decorations, food, and audiovisual systems. Despite having to contact the food and audiovisual vendors, the accumulated cost of renting a wedding venue will definitely be lower than that of a banquet in a hotel.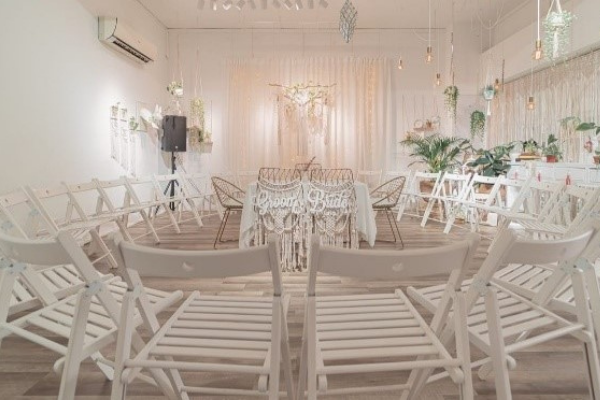 With a minimalistic and clean touch to it, the event space is suited for weddings, corporate team bonding events, yoga, and more. Besides offering a specially catered food menu, the host also furnished the space with a projector, air conditioner, sound system, whiteboard, and Wi-Fi.
For couples looking to have a simple wedding, this event venue would be the most suitable as it comes with everything needed.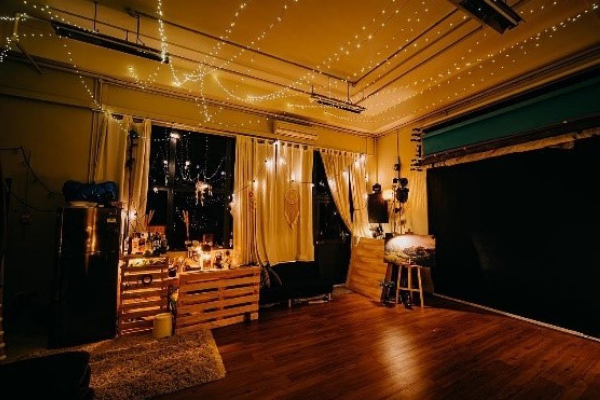 For those who are looking for a space where guests can step out to and have their own moment, The Vibe Space is the recommended choice. It offers both indoor space and a balcony for guests to chill or smoke at.
The event space can accommodate up to 40 pax and the host allows outside catering, which can be placed along the corridor. In addition, there are wireless microphone for speeches, party lights to decorate the room according to the user's liking, and a professional grade audio system for music playback.
Wedding Venues
For those who are not a fan of finding vendors for the food, decorations, or audiovisual systems, there is the option to hold the wedding at a venue that is specially created for solemnisations and/or wedding lunch/dinners. At these places, there tend to be different packages to choose from; hence, be sure to check all of them out to select the most suitable one!
3. Alcove at Caldwell House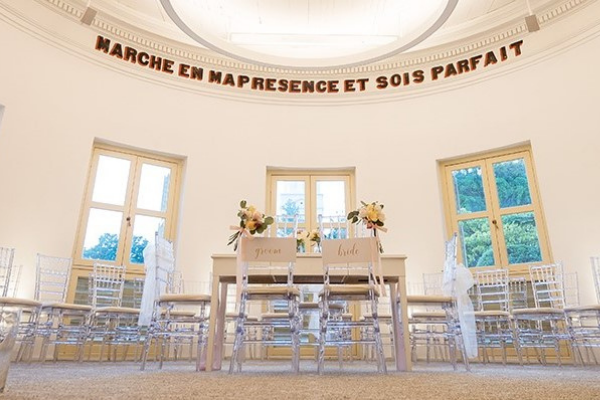 Caldwell House is the second oldest building in Singapore and has a unique semi-circular exterior. The interior of it is well furnished with furniture to suit the wedding theme. At Alcove, there are three packages available – Solemnisation Only, Gozen Reception, and Wedding Reception. All of which are only valid till the end of the year.
What makes Alcove different is the Bride's Room that they offer. It allows the bride to have her own private moment, do her makeup, and to change into the gowns.
4. Botanico at the Garage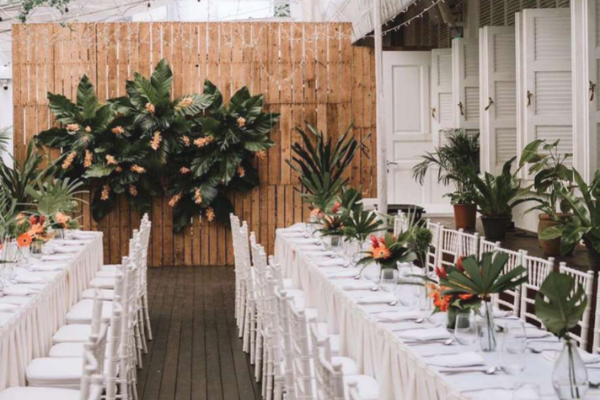 Surrounded by nature for its air-conditioned outdoor space and filled with greens in its indoor space, Botanico is located within Singapore's first UNESCO World Heritage Site, Botanic Gardens.
Venue rental starts from $1,000. It includes free flow of soft drinks, juices, tea, and coffee, but excludes any meals. AV equipment can also be used at no additional cost during solemnisation.
With the 50 pax guideline in place, you might think that it is difficult to find a suitable location to hold a small wedding. In fact, it is far from the truth. There are many event spaces and wedding venues which you can rent to make the wedding day unique and memorable. When the special day comes, be sure to put on your best makeup and smile!
Check out our wedding venues for hire!